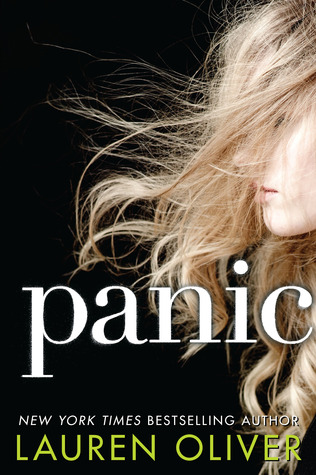 When I first heard about Panic by Lauren Oliver, it just screamed Hunger Games to me. Now that I've actually read it, I really wouldn't compare the two. Except for a deadly game amongst teenagers, they have nothing in common. Panic isn't some sort of dystopian fiction and neither is the game Panic mandatory to play. But I'm getting ahead of myself, let me explain what it's about first:
Carp, a dead-end town with a couple thousand inhabitants, is one of the most boring towns ever. To spicen things up and to give young High School graduates a chance to escape town the game Panic is played. Only one person can win Panic, a game that's not exaclty easy to play. In the previous years there have been plenty of accidents and occasionaly even deaths. The story is told from the POV of Heather and Dodge, two of the players who have completely different reasons for playing.

The book certainly had some thrilling moments in there, but in the end it just didn't grip me. To me, Panic (the game) just seemed so stupid and reckless. All the characters had their very valid reasons to participate in the game, but I just couldn't connect with any of them. I felt like the book was telling me over and over again what's wrong with the people and their lives, instead of letting me explore it through the story. All in all, I would say it's a fun and short read, but nothing that will stick with you forever. 
Have you read it? What would you say about it?