Another Whovian Saturday! In this week's episode "Flatline" Jamie Mathieson/Steven Moffat were dead set on getting us scared of walls and giving Clara another opportunity to shine. As always you should hear River in your head by now: "Spoilers!"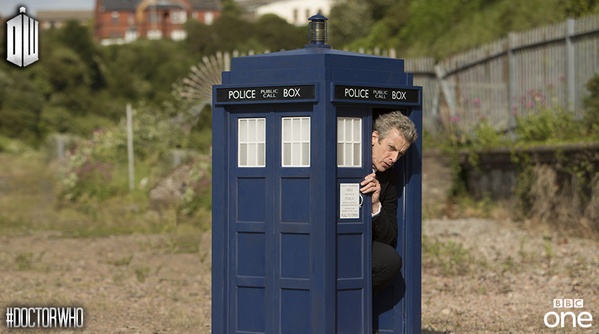 After I've seen the promo for "Flatline", I thought the episode had potential to be really creepy. Unfortunately, I didn't end up liking it that much. While I really love Series 8 as a whole, I also have my issues with it. So far, there haven't been any terrible episodes, but there also haven't been any outstanding ones. I've been waiting for an episode to really wow me and excite me, like for example "Vincent and the Doctor", "Blink", "The Empty Child"/"The Doctor Dances" or "The Girl in the Fireplace" did. And those are just the examples I could come up with from the top of my head! Again, "Flatline" wasn't bad at all, but I doubt it'll stay in my memory forever. However, it did have it's moments! Since the Doctor was stuck in the shrunken TARDIS, Clara had to do his job and defeat the monsters. Here are my thoughts about the occurrences of "Flatline".
So, as I mentioned above, our weekly monster was a little different this time around. It started out in 2D, but quickly evolved to something more 3D by draining the TARDIS of its power. In my opinion, those creatures (Do they have a name? They remind me a bit of the Vashta Nerada to be honest) have the potential to be really creepy, but didn't fully realise said potential during the course of this episode. In the end, they just looked like pixelated and glitching Zombies.
Clara was the center of attention once again. It's not like I don't like her, but come on. This is turning into the Adventures of (Doctor) Clara Oswald rather than Doctor Who. Is that just my feeling? Because I don't remember the other companions being that much the focus of the show. Also, she's turning more and more into the Doctor – the lies, her way of thinking …
Danny … oh poor Danny. Always having to worry about Clara. He's not stupid! He clearly knew she was getting into trouble with the Doctor and she shouldn't lie to him. If she's getting into a dangerous situation, he needs to know that. At least, he said that that's a deal breaker when they started dating.
Rigsy (Joivan Wade) was sweet and he looked like he had a crush on Clara. But why exactly did he want to sacrifice his life for no reason?
Did not like grumpy old man Fenton (Christopher Fairbank), but I suppose it was intended that we dislike him.
I like the use of psychic paper, even if it was beaten by utter lack of imagination.
Did I just imagine that, or did the TARDIS in siege mode look like the Pandorica? I know that it was Gallifreyan writing on the box, but it still very much reminded me of the Pandorica.
The Addams Family-hand reference was funny.
The Doctor, as always, is a mystery to me. On the one hand, he had hope that it was all just a misunderstanding with the enemy creatures and I again saw a glimpse of the man who finds every creature in the universe important and beautiful, but then he did not hesitate to destroy them. He compliments Clara for how she handled the situation, but at the same time tells her that his actions have nothing to do with being good or goodness. I still want to believe that the Doctor is a good man, but he himself seems to have stopped believing that altogether. However, I still like the scenes where we see that the Doctor cares about Clara and sometimes even is jealous, even if he doesn't like that she's becoming more like him.
Missy had her almost obligatory tiny appearance again. Tonight's episode seemed to be another hint that she might truly have been the woman in the shop. She called her "My Clara" (wasn't that Eleven's thing?) and said that she chose her well, so, that just makes me assume she's the one who gave Clara the Doctor's phone number. After the torturous and slow build-up of her character I hope the season finale, which supposedly reveals everything, will be as good as I expect it to be by now.
What were your thoughts about this week's episode? I'm already looking forward to "In the Forest of the Night" (which oddly makes me think about "Forest of the Dead" and the Forest people, although I doubt it has any connection to those things), because Danny will finally tag along on the TARDIS … even if it is with an entire group of children.