It's over … and I don't know what to say. I dearly love Our Girl and I think I am about to riot if they don't make another season. But let's get into that a bit later on and start the review now. As always, beware of Spoilers!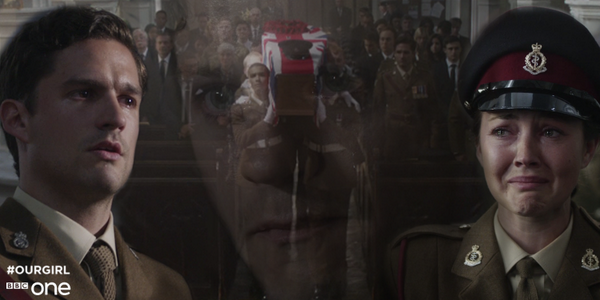 The final piece of the Our Girl mini-series of course dealt with the repercussions of last week, as well as finding a conclusion to our heroine's drama. Molly isn't the one who gets to treat Captain James and Smurf, so she has to wait and hope to find out about their state of health like all the other platoon members. In addition to that, they are about to return back home, where Molly has great difficulties returning to "normality". I had a feeling that someone was about to die, but I will grant Tony Grounds that he's surprised me with his choice of character to write out of the show. Another great episode in my eyes and here are my more specific thoughts:
Smurf … it's definitely been a roller coaster with him throughout this season and that didn't change in the last episode. First, he tried to guilt Molly into believing that the shooting was her fault and then he finally gets it and redeems himself by becoming what he should have been all along: Molly's best mate! Things were going so well for him, at least it seemed that way. He only had some minor injuries that needed to heal, Molly and him were about to go to Las Vegas, he was willing to talk to a psychiatrist (about time!) and then … he just dies. Can we all agree that that was unexpected? They were always teasing that someone was about to die, but I never saw it coming that it would be Smurf/Dylan Smith. It was really sad to see his funeral and especilly Mrs Smurf/Smith, his mother, seen as she has lost both her boys now.
Qaseem is still one of the best people on the show. He kept his promise, found Bashira and finally even managed to unite her with Molly. Couldn't have been a better ending for the season.
James woke up and I thought that he was the candidate to die rather than Smurf, but I am of course more than happy that he is still alive. His son is the cutest and we finally got to know his first name. It's Charles – Captain Charles James! What a lovely name, but I had to smirk like Molly when I first heard it. He is definitely divorced from his wife Rebecca now and he got to go on a date with Molly. Their relationship is so beautiful and I had to smile all throughout their date. I'm glad they are sort of together now.
There was a Doctor Who reference (TARDIS) and it was one of the best things ever to see two of my favourite shows collide.
Molly –  I love her as a character. You can feel with her so easily and she's utterly relatable, which is so very important. I'm very happy that she got awarded for her actions, but I didn't quite know how this season would end for her and I could definitely understand her wanting to go on another tour and also wanting to find Bashira. She felt restless and uncomfortable being back home and I think we can all understand that. The final solution was great! She went back to Afghanistan and teaches other medics there; couldn't have imagined something more fitting for her. And still, if she decides to leave the military now, she has James waiting for her in Bath.
However cute the post-credit scene was, I think it wasn't necessary, because the other ending was also perfect.
Now that this season is over, there are a lot of people who want more of the show. I do too! But I can also see that the first season had a nice conclusion for almost everything. If there was to be a Season 2, I'd hope that a lot of characters would make a comeback, but I can't exactly see what the grand theme or story arc would be, but then again I am not the writer. Any ideas on your side?
So, this is it. We got to see a great show with Our Girl and I'm truly sad that it's over … what am I going to watch on Sundays now? Do you have any last thoughts you want to share?
Previous Our Girl posts: