Every now and then I tend to throw in a book tag to change up things on my blog. I actually read a lot, but I often don't get around to posting about it and I'll admit with shame that I let my Goodreads reviews slide as well. But I'm making up for it now! I forgot who created it originally, but I saw the Book Courtship Tag on jessethereader's channel on YouTube and it sounded like fun! The questions are structured according to the different phases of courtship, so here we go!
Phase 1 – Initial Attraction: A book that you bought because of the cover?
We've been over this before: I pretty much buy all my books because of their covers. Most recent acquiries include Red Queen by Victoria Aveyard, The 100: Day 21 by Kass Morgan and Rebel Belle by Rachel Hawkins. Don't they look just lovely!!
Phase 2 – First Impressions: A book that you got because of the summary?
That's actually a little bit of a tough one. Very often, I buy books because someone recommended them to me or it just has a general buzz going on. It's been a while since I've read this book, but I was really intrigued when I read the cover description of the Night Circus by Erin Morgenstern! I think it's because I like vague descriptions rather than full on explanations of the story and the Night Circus was definitely vague!
Phase 3 – Sweet Talk: A book with great writing?
Uuuuh, I like that one! Although I love the writing in Red Queen and the Shatter Me Series, those seem like my go-to answers, so I want to say something different. Is it weird to say Much Ado About Nothing by William Shakespeare at this point? It's nothing like the books I mentioned before, but I found the writing hilarious! Maybe that's because I completely and utterly associate it with the performance of Katherine Tate and David Tennant though … (click here to see the Trailer on YouTube!). Also, there's a Joss Whedon version out there (again, click here for the Trailer) which I liked.
Phase 4 – First Date: A first book of a series which made you want to pick up the rest of the series?
If I start a series, the book has to be really, really terrible in order for me not to want to read on. (I stuck with the 100 series and that means something …). Yet, I do know of a book that I loved so much and still love to this day: The Bad Beginning from A Series of Unfortunate Events by Lemony Snicket! I love that series to bits, even though I think it's quite dark and frustrating for children.
Phase 5 – Late Night Phone Calls: A book that kept you up all night?
Many a book has managed to do that. Nowadays it just happens so often that I can't remember at what time of the day I've read a book. However, when I was little that was a special thing to do (and a real honor for the book). I remember loving the City of Beasts series by Isabel Allende and it being so suspenseful that I just couldn't put the books away!
Phase 6 – Always on my mind: A book you couldn't stop thinking about?
There are two books that've stayed with me a while after I was finished with reading them: How I Live Now by Meg Rosoff and Every Day by David Levithan. And here's why:
For me, war is a very disturbing but vague concept. I've grown up in a safe environment and I wouldn't wish for it to be any different, but How I Live Now allowed me a glimpse at how warfare would look like in developed countries nowadays and that just kept me thinking for a while. We are used to so many things these days, the world would go down in a whole different kind of chaos without the communication systems we have now.


David Levithan is one of my all time favourite authors, but he managed something completely new with Every Day. The main protagonist switches body every single day, not willingly, it's more like a curse. That led to the problem that A never had a gender identity. Try to imagine a character without those typical female or male voices, without a face to go with. It's really weird. I can't wait for the rest of the series!

Phase 7 – Getting Physical: A book which you love the way it feels?
You're going to have to trust me on this one, because I have no way of proving it, but I love the way The Spook's Apprentice by Joseph Delaney feels like. It's as if the book is bound in leather or something and that just feels sooo nice. The book has been turned into a movie with Ben Barnes, Jeff Bridges, Alicia Vikander, Julianne Moore and Kit Harington. I haven't seen it yet, so if you have, tell me if it's worth checking out!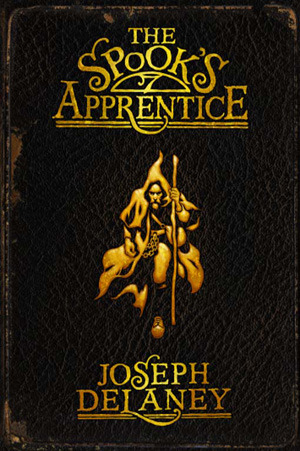 Phase 8 – Meeting the parents: A book you would recommend to your family and friends?
I'm not sure I would recommend it to all my friends (because let's face it, the tastes vary a lot), but I recommended it to my mum and she liked it: Water for Elephants by Sara Gruen. It was a change from the usual sci-fi/fantasy/YA stuff I normally read and the old man's POV just broke my heart. Also, I love stories that take place in a circus.
Phase 9 – Thinking about the future: A book or series you know you will re-read many times in the future?
I'm not huge on re-reading, but I like to take a look at the Inkheart series by Cornelia Funke and everything written by John Green every now and then.
Phase 10 – Share the love: Who do you tag?
I don't usually tag people with this, so whoever wants to do it – GO AHEAD! Spread the looove!
Hope you enjoyed this little excursion into my bookshelf-life. Don't hesitate to comment and discuss below! I'd love to hear what you think.
Read you soon!