I am back with a challenge once again! I got tagged by Erika and Miedjel @PartnersInBooks to do the Book Cover Guessing Challenge. I have to say this honestly looks like a ton of fun, but you're probably wondering how it works. Well,  you pick a few books (typically well known) that you know little or nothing about and guess what they are about based on their cover and title alone. Then, you compare it with the actual blurb on Goodreads and see how you did. I don't think there's a certain number you have to do, so I'm just going to do as many as I like.
Don't Ever Change by M. Beth Bloom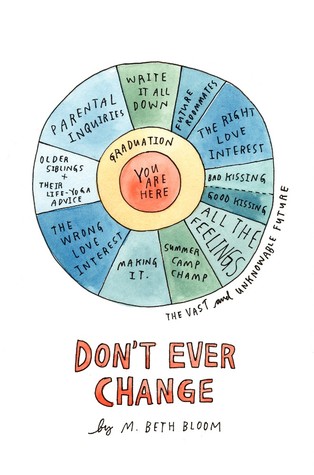 Me:  So, I say this is about a teenager who's close to graduation High School and who has to figure out her (?) life. The future is scary, but in the end she (?) realises she just has to be herself to be happy in life.
Goodreads:
"Eva has always wanted to write a modern classic—one that actually appeals to her generation. The only problem is that she has realized she can't "write what she knows" because she hasn't yet begun to live. So before heading off to college, Eva is determined to get a life worth writing about.
Soon Eva's life encounters a few unexpected plot twists. She becomes a counselor at a nearby summer camp—a job she is completely unqualified for. She starts growing apart from her best friends before they've even left for school. And most surprising of all, she begins to fall for the last guy she would have ever imagined. But no matter the roadblocks, or writer's blocks, it is all up to Eva to figure out how she wants this chapter in her story to end.
Perfect for fans of E. Lockhart, David Levithan, and Rainbow Rowell, Don't Ever Change is a witty, snarky, and thought-provoking coming-of-age young adult novel about a teen who sets out to write better fiction and, ultimately, discovers the truth about herself."
Okay, so, not really what I said but also not completely off. How was I supposed to know it was about her wanting to write fiction??
Like It Never Happened by Emily Adrian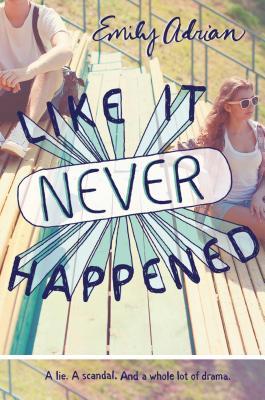 Me: A guy and a girl have a fling with each other but no one can know about it. One of them is probably pretty popular and maybe even in a relationship. The other one totally isn't with the popular crowd at all. It's just that they felt a real connection with each other, but to protect their status at school, save face, or whatever else they pretend "like it never happened".
Goodreads:
"When Rebecca Rivers lands the lead in her school's production of The Crucible, she gets to change roles in real life, too. She casts off her old reputation, grows close with her four rowdy cast-mates, and kisses the extremely handsome Charlie Lamb onstage. Even Mr. McFadden, the play's critical director, can find no fault with Rebecca.
Though "The Essential Five" vow never to date each other, Rebecca can't help her feelings for Charlie, leaving her both conflicted and lovestruck. But the on and off-stage drama of the cast is eclipsed by a life-altering accusation that threatens to destroy everything…even if some of it is just make believe."
Okay, I am terrible at this and that even though I am always going for the most obvious thing the book could be about. But I also have to say that I don't really get the Goodreads blurb. Why is it called Like It Never Happened?
Across the Universe by Beth Revis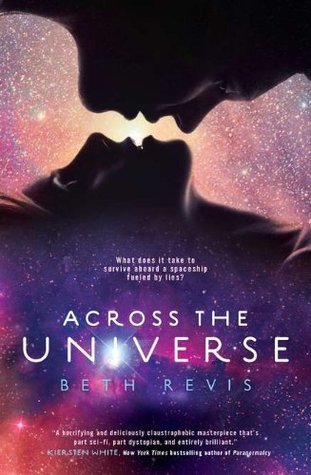 Me: I'm guessing this has nothing to do with the 2007 movie of the same title starring Jim Sturgess and Evan Rachel Wood. (Brilliant movie btw!) It's a sci-fi story with a couple who's love transcends across the universe. It is so strong that they will fight to get to each other even if they need to get across the entire galaxy and defy their families who are probably very Romeo & Juliet like against it.
Goodreads:
"Seventeen-year-old Amy joins her parents as frozen cargo aboard the vast spaceship Godspeed and expects to awaken on a new planet, three hundred years in the future. Never could she have known that her frozen slumber would come to an end fifty years too soon and that she would be thrust into the brave new world of a spaceship that lives by its own rules.
Amy quickly realizes that her awakening was no mere computer malfunction. Someone – one of the few thousand inhabitants of the spaceship – tried to kill her. And if Amy doesn't do something soon, her parents will be next.
Now Amy must race to unlock Godspeed's hidden secrets. But out of her list of murder suspects, there's only one who matters: Elder, the future leader of the ship and the love she could never have seen coming."
There is love – yay! Other than that – this does so not look like a murder mystery book to me! So much intrigue and killing … the space is a harsh place.
Between the Notes by Sharon Huss Roat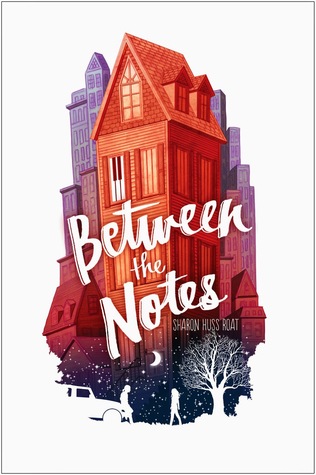 Me: I stared at this for a long time, because I clearly suck at this game and wanted to come up with something good. (The cover is definitely gorgeous!) So, "Between the Notes" caught me off-guard for a while but then I saw the piano keys in the window and I was like – AHA!! Also, the house looks special and like it doesn't exactly fit in with the big city backdrop. And then there's the couple at the bottom.
I don't know … a girl takes piano lessons at this old lady's house and falls in love with her grandson. No idea …
Goodreads:
"When Ivy Emerson's family loses their house—complete with her beloved piano—the fear of what's to come seizes her like a bad case of stage fright. Only this isn't one of her single, terrifying performances. It's her life.
And it isn't pretty.
Ivy is forced to move with her family out of their affluent neighborhood to Lakeside, also known as "the wrong side of the tracks." Hiding the truth from her friends—and the cute new guy in school, who may have secrets of his own—seems like a good idea at first. But when a bad boy next door threatens to ruin everything, Ivy's carefully crafted lies begin to unravel . . . and there is no way to stop them.
As things get to the breaking point, Ivy turns to her music, some unlikely new friends, and the trusting heart of her disabled little brother. She may be surprised that not everyone is who she thought they were . . . including herself."
I got the piano right! Do I get points for that?  … there are no points but still.
The Night We Said Yes by Lauren Gibaldi
Me: Teenage Marriage? Nah … people getting simultaneously asked out to prom? Don't think so … This is really hard. I wonder what they said yes to and I can't come up with anything good. Also, they say yes on a certain night …
Maybe they were planning a stupid prank, all agreed to do it (hence said yes) and it totally backfired. Now they have to deal with the repercussions of their doings.
Goodreads:
"Before Matt, Ella had a plan. Get over a no-good ex-boyfriend. Graduate from high school without any more distractions. Move away from Orlando, Florida, where she's lived her entire life.
But Matt—the cute, shy, bespectacled bass player who just moved to town—was never part of that plan.
And neither was attending a party that was crashed by the cops just minutes after they arrived. Or spending an entire night saying "yes" to every crazy, fun thing they could think of.
Then Matt abruptly left town, and he broke not only Ella's heart but those of their best friends, too. So when he shows up a year later with a plan of his own—to relive the night that brought them together—Ella isn't sure whether Matt's worth a second chance. Or if re-creating the past can help them create a different future."
I'd totally read that and I guess I at least got a bit of that story right (not really …).
Ugh, 5 books has to be enough. How did I do? I think I pretty much flunked this challenge. I don't want to be the only one to be terrible at this though, so I am nominating the following people for the challenge: