Everyone is raving about Sarah J. Maas and her brilliant books. I wanted to test my patience and wait until the series are all entirely released, but then I was at the bookstore and they didn't have any of the books I wanted to buy. So, I ended up buying A Court of Thorns and Roses and definitely did not regret it since!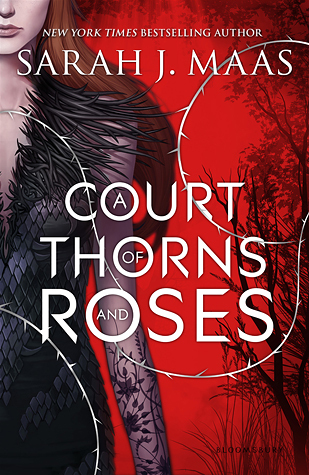 Feyre is a huntress, not because she enjoys it so much but rather out of necessity to provide for her family. The forest is a dangerous place though, especially with rumours of the much hated faeries returning to the human world. When one day she encounters a wolf on her hunting grounds that's about to attack the only prey she had seen all day, she kills it. What she didn't know was that the wolf was a magical creature and that killing it had consequences.
Now she is given a choice: Die on the spot or leave her family forever to live out the rest of her life in the fairie kingdom.
But imprisoned in the foreign kingdom, Feyre's feelings for her captor Tamlin slowly grow into something else and she may be the only one to help him save his world.
(For a full summary and more details on the book, just click on the cover to be redirected to Goodreads!)
ACOTAR has quite the fairy tale vibe just with actual fairies in it. The main plot resembles very much Beauty and Beast in the beginning and then there are elements thrown in from Cinderella and the Gallant Tailor and who knows what else. Since I love fairy tales of all kinds, I quite enjoyed that. Also, I always say there is nothing wrong with using familiar story elements as long as you add your own twist!
Feyre is the kind of person that's very popular in today's culture: badass female who does everything for her family, is responsible, smart and has a thing for archery. I liked her well enough as a main protagonist, but mostly enjoyed her musings about art and colours and light. The only thing that was a bit annoying is that she thought pretty much everything that had to do with faeries was impossible to paint. I got it the first ten times around.
Now, let's talk about the even more important people in this book: the men! So, Tamlin is apparently super-hot, Lucien has a great sense of humour and Rhys is just really intriguing. Who wants to move to Prythian with me?
Okay no, but seriously, these guys are really easy to fall in love with. Apparently Tamlin is everyone's favourite, but not mine. I much more enjoyed the scenes with Lucien and/or Rhys. Rhys sort of reminds me of Warner from the Shatter Me series … a bit of a psycho with a good heart. And what was that in the last chapter? I would love to see more of him in the second part, but I just hope that he doesn't turn out to be some sort of Jacob to Tamlin being Edward Cullen. The mating process sounded a lot like imprinting to me …
So, overall it was a gripping read. It started out very calm, easing you into the world, getting to know everyone. And just when you thought everyone was happy and could live on like that forever the real action begins and there are some more gory scenes. I loved it!
Disclaimer: there are quite some sexy scenes in there! I definitely didn't mind, but thought I should mention it.
Fazit: 4.5/5 stars! Even though there was no cliffhanger, I want the next book RIGHT NOW!
P.S. I love how at the end of the book there is a guide on how to pronounce all the places, names and kinds of faeries. Some were obvious, but for others it was quite helpful!