It's time for the weekly meme Top Ten Tuesday created by The Broke and the Bookish. This week's theme is "Ten Finished Series I Have YET to Finish" but I am going to change that up a little. Mostly, when I like a series, I am going to read it all in a sitting if the books are available, so that would make for a really short list of mine. To add some books to the list, I am going to put in series that I have started but WON'T finish as well. That should add up to ten … hopefully.
(Again I just want to clarify that this is not a ranking!)
1. Percy Jackson and the Olympians by Rick Riordan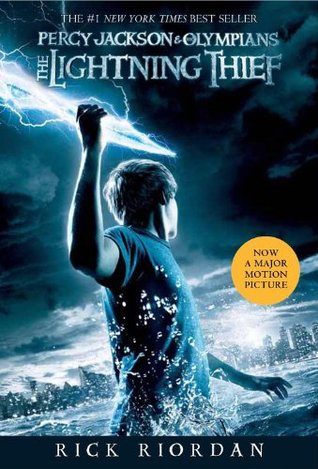 This is actually a series I intend to finish. I have only read Percy Jackson and the Lightning Thief so far and I really liked it. Somehow I had troubles finding the sequels with the same cover and then I forgot about the books, but someday I want to continue with the series.
2. The Ruby Red Trilogy by Kerstin Gier
Also a series I want to finish! I have read Ruby Red and Sapphire Blue, which means I am only missing the final part of the series, Emerald Green. I have the first two books with the movie covers (not the ones shown below), so I want the last one to fit as well. I have no idea when it will come out but yeah … someday, one day …
3. Every Day by David Levithan
I read Every Day, but not Another Day and I don't think I will read it. It's just the first book from a different POV and quite frankly one I am not interested in. Every Day was such a unique book, but the story really just started by the end in my opinion and so I would have preferred it a thousand times more to get an actual sequel rather than a re-telling of what's already happened. So, this is probably not going to happen …
4. Gossip Girl by Cecily von Ziegesar
I actually read 6 books of the original Gossip Girl series as well as the first book of Gossip Girl the Carlyles but I just always liked the show more than the books. The characters were over the top (yes even more so than in the show – Chuck didn't have a dog called monkey, but an actual monkey!!!)
5. Pretty Little Liars by Sara Shepard
I don't know if this series is actually finished but I bought a book box with the first 4 volumes in the series, but I don't think I ever even finished reading the second book. It just really wasn't my thing …
6. The Lying Game by Sara Shepard
Speaking of the Pretty Little Liars series just instantly made me think of the Lying Game. I know for a fact that this book series isn't finished yet but the TV show was canceled. I loved that show so much and now I just don't feel like reading it any longer, especially because it's actually very different from what happened on TV.
7. The Ingo Series by Helen Dunmore
I actually would have loved to finish reading the series, but I am still too mad at the publishers to do that. I started reading those books when I was still pretty young and didn't buy every book in English, but instead read the German translations. I have the first two books of the series on my bookshelf and they look great and I was so excited for the next book … but it never came. They rebranded the whole series, published it again under a completely different title and with obviously very different covers. I wanted to know what happened next in the books, but not so desperately as to buy a completely different set of them that didn't match my very pretty hardcovers!
8. Cirque du Freak by Darren Shan
I think I have about book 1-6 or something like that, but I lost interest as I went along. There are a lot of people who love this series and I get it, but I watched the movie first and it was very different and maybe that had something to do with me not enjoying the books as much.
9. A Song of Ice and Fire by George R.R. Martin
I've read book 1-4, but I never finished the 5th book. I guess I would like to know the fate of some characters, but it takes forever until the next books come out. I am just not sure I'll still be interested in the whole thing by the time they are finally released. A feeling tells me I probably won't be.
Well, 9 is better than nothing! What do you think? What are some series you have yet to finish or don't intend to finish at all?