I am sort of out of ideas for this week's Top Ten Tuesday, so I thought it was time to do the Bookshelf Tag which I got tagged for by Cristina @My Tiny Obsessions. If you've followed my blog for a while, you should know that I adore her blog and that we geek out about almost the same stuff all the time.
DESCRIBE YOUR BOOKSHELF AND WHERE YOU GOT IT FROM…
I got it from a place where you can buy furniture? I don't even remember which company exactly. And does a picture count as description? It looks a lot shorter than it actually is. So, basically 2/3 of one wall are bookshelf only.
DO YOU HAVE ANY SPECIAL OR DIFFERENT WAY OF ORGANIZING YOUR BOOKS?
No, not really. I started separating the hardcovers from the others but they've mixed again. I once even attempted to organize them by genre, but I mostly end up just putting them together in a way that I like in that very moment.
WHAT'S THE THICKEST (MOST AMOUNT OF PAGES) BOOK ON YOUR SHELF?
I guess it's 1001 Movies You Have to Watch Before You Die because it has close to 1,000 pages.
WHAT'S THE THINNEST (LEAST AMOUNT OF PAGES) BOOK ON YOUR SHELF?
Even after all this time, I am still not sure that The Greatest Man in the World by James Thurber qualifies as a real book. It's so short and feels more like a leaflet.
IS THERE A BOOK YOU RECEIVED AS A BIRTHDAY GIFT?
There are a ton of books I got as a birthday present and it wouldn't make sense to photograph them all. Whenever my birthday or Christmas is coming up, I make a list of books, DVDs or other stuff (like perfume … I am always running out of perfume and I'm not even using it that often) I want. There are few surprises when I open the presents but that's okay. I mean I mostly get exactly what I wanted.
WHAT'S THE SMALLEST (HEIGHT AND WIDTH WISE) BOOK ON YOUR SHELF?
It's called Sonntentage which basically means Sunny Days and I got it from my Grandma. It's only 8 cm high.
WHAT'S THE BIGGEST (HEIGHT AND WIDTH WISE) BOOK ON YOUR SHELF?
It may not be the biggest in width, but it is the biggest in height: The World of Inkheart. It's one of those interactive books with pop-ups and stuff you can touch and pull out etc. It's the book for the Inkheart movie which I actually didn't love, but everyone knew that I adore the book so I was still really happy to get it!
IS THERE A BOOK FROM A FRIEND ON YOUR SHELF?
Nope. Not that I know of.
MOST EXPENSIVE BOOK?
I think I was asked this before and I honestly don't know. I think the complete Narnia collection by C.S. Lewis was fairly expensive at the time though.
THE LAST BOOK YOU READ ON YOUR SHELF?
Eleanor & Park by Rainbow Rowell – you can read my review here.
OF ALL THE BOOKS ON YOUR SHELF, WHICH WAS THE FIRST YOU READ?
I have no idea, but going with Der pummelige Panda (The chubby Panda) is probably a good idea.
DO YOU HAVE MORE THAN ONE COPY OF A BOOK?
I do! I have German and French copies of Twilight (none in English though) and German and English copies of the first three books of the Mortal Instruments series. I always get confused about the order of the books, because the colour of Ashes and Glass is reversed in German.
DO YOU HAVE THE COMPLETE SERIES OF ANY BOOK SERIES?
Loads! I have the complete Sookie Stackhouse series, A Series of Unfortunate Events, Shatter Me Series, Divergent Series, Hunger Games Series, Anna and the French Kiss Series, The Mortal Instruments, The Infernal Devices, The Magicians, Inkworld Series, City of Beasts Series, Beautiful Dead Series, … you get why I don't take pictures of those, right?
WHAT'S THE NEWEST ADDITION TO YOUR SHELF?
Has to be the same answer as for the last book I read: Eleanor & Park.
WHAT BOOK HAS BEEN ON YOUR SHELF FOREVER?
My mom had an English copy of Goethe's Faust for some reason and since it's been on our family book shelf since before I had any of my books and before I took it into my own collection, I'd say it's been there a while.
WHAT'S THE MOST RECENTLY PUBLISHED BOOK ON YOUR SHELF?
I'm not sure, but I think that The Next Together by Lauren James was published in late August and is therefore the most recent one.
THE OLDEST BOOK ON YOUR SHELF (AS IN, THE ACTUAL COPY IS OLD)? 
We've found a really old bible last year. It is absolutely gorgeous but my mom put it away so that nothing may happen to it.
A BOOK YOU WON?
I actually won a whole book box from a local bookstore chain. I didn't keep them all, but redistributed them among my family and friends. I kept the Sacher cook book though.
A BOOK YOU'D HATE TO LET OUT OF YOUR SIGHT (AKA A BOOK YOU NEVER LET SOMEONE BORROW)?
ALL OF THEM!! Sorry, but I am iffy when it comes to letting someone borrow my books … it's unlikely to happen.
MOST BEAT UP BOOK?
Most of my books look like no one's ever read them, but I bought used copies of Something Borrowed and Something Blue and the spines look pretty worn.
MOST PRISTINE BOOK?
As I just mentioned, most of my books look great. I am sorry but I can't decide. There are so many pretty ones!!!
A BOOK FROM YOUR CHILDHOOD?
I like the circus and I like letters and I think this book was involved in the development of that affection: Zirkusbriefe von Felix. Who doesn't love a traveling bunny?
A BOOK THAT'S NOT ACTUALLY YOUR BOOK?
I guess I took in a couple of books from my mom over time: Goethe's Faust, Napoleon's Love Letters to Josephine, Chocolat, Bridget Jones's Diary, …
A BOOK WITH A SPECIAL/DIFFERENT COVER (E.G. LEATHER BOUND, SOFT FUZZY COVER ETC.)?
My copy of Spook is pretty cool. It feels like old weird leather, even though it's definitely just some sort of paper.
A BOOK THAT IS YOUR FAVORITE COLOR?
Answered that yesterday with Fangirl by Rainbow Rowell, so I can hardly say something different now.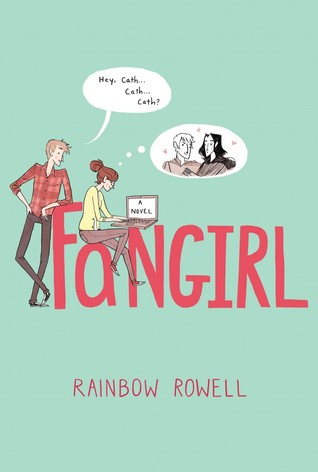 BOOK THAT'S BEEN ON YOUR SHELF THE LONGEST THAT YOU STILL HAVEN'T READ?
I'm not sure I really had it the longest, but I have been putting off reading Jane Eyre …
ANY SIGNED BOOKS?
Again, I was really lucky and have a couple signed ones. I met Cecelia Ahern and she signed 2 books for me (click here to see them), when I was in grade school we all got to meet the author of a book we read in class and he signed our copies, my cousin got me a signed book by Daniel Glattauer (still love her for that) and my copy of Armada is signed as well but I bought it in the bookstore that way.
---
I don't know who already did this tag and who didn't, but here are some people where I'd really like to know more about their bookshelves: