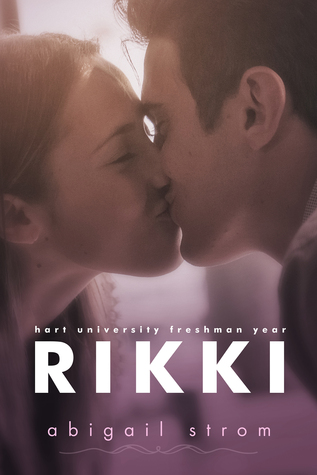 "Ever since junior high and an ill-fated game of seven minutes in heaven, Rikki Eisendrath and Sam Payne have hated each others' guts. But when they end up at the same college—and the same dorm—they figure it's time to declare a truce.
They even become friends . . . sort of. But when Sam asks Rikki to model for his sculpting project, they start spending more time together—and her feelings for him get more complicated.
She tries to focus on the guy she's been crushing on instead. But Sam's the one she can't stop thinking about, even though their arguments are starting to heat up as much as the chemistry between them.
With antagonism and attraction this intense, there's bound to be an explosion. But when the dust settles, will Sam and Rikki be enemies, friends . . . or something more?"
I was provided with an eArc from the author through NetGalley in exchange for an honest review.
It's no secret that I am a huge fan of the contemporary and YA/New Adult genre, sprinkle it with a lot of romance and you definitely have my attention. That's what first drew me to Rikki and I have to say I was not disappointed.
The novel is very fast paced, especially in the beginning it almost felt rushed. However, as soon as I settled in a bit, I really enjoyed it. While the plot – rivals falling for each other – may not be the most original one, it is well executed and features great characters that you care about. I thought that I would be frustrated with them not realizing that they have feelings for each other sooner, but I liked watching their fights and the development of their relationship. I could identify with Rikki so much, by the end of the book I was questioning some of my life choices because they were so similar to hers.
Another thing I really liked was the no-judgment vibe and the diversity of the novel. I think that it had some great messages concerning being open and responsible when it comes to sexuality.
There were a couple of things that I didn't enjoy as much though. Being pretty impulsive and getting angry very easily can be a tad of an annoying trait, but I understood it because that behaviour is still sort of justifiable at 18. Yet, denying that you are jealous and obviously feel physical attraction towards someone is just silly. Also, Sam did something before they went to Hart University that just weirded me out. I don't want to give it away here, but people who have read the book probably know what I mean. I am still surprised as to how casual Rikki reacted to it in comparison to his mistake towards the end, which wasn't cool either, but I get why it happened – not so much the other thing though.
In the end, Rikki was a really fast, cute yet also very sexy read. It's the first part of the Hart University books and I would gladly take up the next one to see where it is going. Maybe it will feature some of the side characters, since they didn't get much spotlight this time around.
Fazit: 3.7/5 stars! If you enjoy New Adult Romance, you should definitely take a look!