I know that today is TTT, but I am once again going to skip on it. The thing is that I know that I'll get books this Christmas, but I have no idea which ones. However, my mum does tend to stop by my blog every now and then and I don't want her to feel weird when I mention random books I'd like to get that she maybe didn't even know about. I am happy with whatever book I might find under the tree, so TTT is unnecessary. Yet, I am still going to do a tag that involves the number 10!
I was tagged by Rae @Bookmarkchronicles to do the Characters Christmas List Tag. It was originally created by Bianca @The Ultimate Fangirl and Anthony @A Very Awkward Blog. You should go ahead and check out everyone's post by clicking on their names!
Rules
Pick 10 random characters from any book/movie/show and try to figure what you would give them for Christmas

🙂

Tag people and spread the word
---
Mark Watney (The Martian)
I would prepare the best and biggest Christmas dinner ever for him, without using any potatoes whatsoever! I think Watney would really appreciate that!
Leo Fitz (Agents of SHIELD)
If I could, I'd make Jemma's torn feelings go away and give Fitz a relaxing day together with her – no interruptions, no doubts, not having to pretend to be strong for the sake of the other one!
Laney (Sleeping with Other People)
I love Laney! She's so funny and witty and I think I would give her a voucher for a dance class of her choice. She has so much energy, she can put that to use there.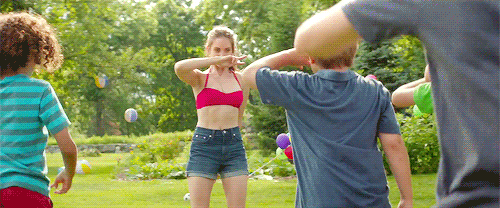 Wick 0308 (Dreamer)
Why not give something to one of my own characters, right? I'd give Wick the freedom to do anything and everything exciting he wants to do in the real world. Want to ride a motorcycle? Sure, go up ahead and do that! Skydiving? Why not!
Clara Oswald (Doctor Who)
If you haven't watched the Series 9 Finale, please do NOT read on! I have warned you!! I'd give her a sonic screwdriver of her own, because she is so much like the Doctor now. She even has her own TARDIS and travelling companion, now she only needs that and voila! Doctor Clara is complete!
Eleanor (The Royals)
I don't think Len needs anything material. In that respect she has everything one could want, but I would give her the chance to see what I see when Jasper watches her and talks about her. I would want her to know that his feelings are real and that she is not being tricked. She has every right to feel the way she feels right now though …
And you wonder why i have trust issues. Not drunk enouggh for this. #TheRoyals #EleanorDrunkTweets pic.twitter.com/VN9Lt4XsPK

— The Royals (@TheRoyalsOnE) December 21, 2015
Jase Garrett (My Life Next Door)
The Garretts are such a lovely family, but they are also quite big. So, I would give Jase (randomly picked him, just to not pick the entire family) all the money he could possibly need in order to get his entire family and himself some Christmas presents. That way they don't have to worry about a thing.
Julia (The Magicians)
Considering what all she will have to go through until the end of the Magicians series, I sometimes wonder if it would have been better if they could have erased her memories for good. I know she's vital to the plot, but there would have been so much less pain for her.
Ava (Ex Machina)
I would want Ava to have a real human experience. One where she sees the good side of people, their kindness and empathy and I hope it will transform her.
Sansa Stark (Game of Thrones)
Sansa grew so much on me over time and I think it's a shame what they did to her in the show. So, for her I would hope that the snow was real, real deep. People who've watched the Season 5 Finale will understand!
---
Tagging Time
Cátia @The Girl Who Reads Too Much
Cristina @My Tiny Obsessions
Emma @Emma the Book Lover
Joey @Thoughts and Afterthoughts
Victoria @Addlepates and Book Nerds
*If you've already done the tag or simply don't want to do it, feel free to ignore it!*