I suppose I am about two weeks late for this post, but whatever! I will not let myself be pressured by social norms! Just kidding, I think it's still valid as long as it's the first month of the year. So, The Orang-Utan Library tagged me to do the Ringing in the New Year Book Tag and here we are. Let's do this!
Rules:
Link to the original post (Dreamy Addictions )
Answer the questions below
Tag 3-5 friends!
---
Best book/series that you've read in 2015? 
People are probably getting tired of my super original answer, but I have to go with The Martian by Andy Weir. I read loads of brilliant books though and I finally turned to The Infernal Devices by Cassandra Clare and I would definitely choose that in terms of best series!
Authors that you've recently found and would like to read more of in the new year?
So, I've read A Court of Thorns and Roses last year and that made me really get into Sarah J. Maas' writing. I think that the Throne of Glass series is even more popular than ACOTAR and I definitely want to read it. Maybe, hopefully, I will get to it at some point this year.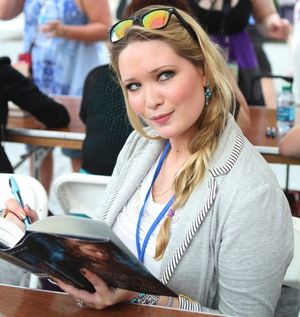 Most anticipated book turned movie?
Book to screen adaptations have been booming in the past years and there is definitely no shortage of them in 2016 either. It's a little difficult to say, but I think I am most excited about Me Before You. I still have to read the book and I haven't even seen a trailer for it, but I am always up for good, emotional romantic movies and THAT CAST! I think this could turn out to be really fantastic!
Name a character that you wouldn't mind sharing a kiss with at midnight! (if there is one)
If there is one? Pfff, just one? My mind is exploding with possibilities right now and I am having difficulties processing them. Having mentioned ACOTAR before, I think I want a kiss from Lucien. I know … shocker! Why didn't I choose Tamlin or Rhys? I have no idea.
What's on your TBR for 2016? (Top 5 will suffice if it's an extremely long list!) 
Okay … coming up with just 5 is still difficult enough. Narrowing it down is never easy! But I really want to read Lady Midnight, Red Rising, Carry On, The Rest of Us Just Live Here and Ten Thousand Skies Above You. Since I have all those books at home (except for the Cassie Clare one!), I think I am set.
How many books do you hope to read in 2016?
I would be very happy with 60 books, but of course even happier about any result that tops it. As always, it very much depends on the common factors money and time though.
Will you participate in the Goodreads Reading Challenge (or any others)?
I set my Goodreads Challenge almost right at midnight. As I've mentioned above, I am shooting for 60 books this year. Having read 4 already, I'd say it's going well. I don't plan on participating in any other reading challenges though. I am too much of a mood reader for that.
Any New Year's Resolutions? (bookish and otherwise)
I actually did a tag for that, so if you want to check that out in detail, just click here.
---
The Nominees: 
I seriously don't know who has done this or not, so if you think this is fun and the right thing for you, go ahead! Consider yourself tagged!