This week's topic is really difficult for me. Beforehand: Top Ten Tuesday is a weekly meme created by The Broke and the Bookish, if you want to know more about it, you can just click on the name!
So, we were supposed to list places in the past or future that we would like to visit, but I don't want to do that. I love electricity and decent hygienic standards, so most the past sort of falls flat … and the future? I don't know about you, but a lot of the futuristic books I read are dystopians with people dying left and right. I WOULDN'T STAND A CHANCE! So, instead I am going to list characters from the past and the future that I would like to meet and they are all going to be boys because I want them to be. Easy as that and it makes much more sense to me!
Darrow – Red Rising
I think my obsession with Red Rising/Golden Son has shown through the past couple of weeks. I ADORE THESE BOOKS! Darrow is a great main character with many flaws. He seems real and someone I would want to follow into battle … maybe … I am not much for fighting, but I have a feeling he might be able to spark that in me.
Bellamy – The 100
I LOVE BELLAMY. There is so much more goodness to him and a certain leader quality than meets the eye. I am obviously talking about TV Bellamy, because I am not sure how I feel about book-Bellamy. He changed his mind in a matter of seconds and I hated that.
Jay Gatsby – The Great Gatsby
There is just something about him. I don't even think that I particularly like him, but I like the idea of him. The determination and drive behind his actions! Also, he's from the 20s – a glorious time!
Max Vandenburg – The Book Thief
He is one of my favourite people ever and if we ever meet, I would want him to have the best day ever. He's so kind and smart and brave! We'd do a lot of star gazing I think. Do something in the fresh air! I'd dig that.
Paul – A Thousand Pieces of You
There are a couple of Paul's I could choose from, but I think I want to meet Russian guard-Paul most of all of them, simply because he was the one we got to know most. (And I will continue to imagine him looking like Nico Tortorella simply because I can!)
Marco – The Night Circus
Marco is another example for someone from the past. The Night Circus is amazing and he is part of the reason for that. (And again, I am just casting him the way I want to … and because I am a massive fan of Aaron Taylor-Johnson!)
Henry Tilney – Northanger Abbey
Persuasion is actually my favourite Austen book (not meaning that I have read all of her novels), but I just love JJ Feild. This one maybe just made it into the list because I love JJ Feild … yep, pretty sure that's it. But there was some fun bantering with Tilney.
Edmond – How I Live Now
Granted by the end of the story he might not be in the best of places (WWIII sure wasn't fun …), but I think he is such a unique person. Depending on when in his timeline I would meet him, our get together would go very differently. Either it would be a lot of bonding and chatting or silence from his side and me getting emotional. I guess I could run with both somehow.
Maxon – The Selection Series
There is not much about the Selection series that I really love, but Maxon is great. I was angry about him being indecisive, then again, I also got it because America was just as indecisive, but for all the wrong reasons.
Finnick – The Hunger Games Series
I just love the guy! I want him around all the time. He could have had his own book if not for an entirely stupid turn of events!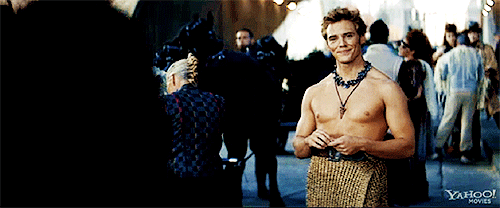 What does your TTT look like? What do you think of mine? Leave a link below and I will gladly check out your list!