We are getting closer and closer to Valentine's Day, so I thought it was about time that I did the Book Love Tag that Anette @Anette Reads created and tagged me for! It has some tough questions in there, but I am excited to spread some bookish love!
Your favorite book couple.
I have an undying love for MALEC and even though I don't need to write it in capital letters all the time, I do. Because I am just that excited whenever I think about them! Yet the thing is, I am not sure they are my OTP … I have so many OTPs, but because they are currently on my mind, Alec and Magnus from the Mortal Instruments are the answer for this one.
Your top 3 book boy/girlfriends.
Hmm … another tough one … those are the most recent additions to my bookish harem I guess.
Darrow (Red Rising) – If I still need to explain this, I have not done my fangirling right.
Mark Watney (The Martian) – He is one of my all time favourite characters. Maybe a tad too old right now, but whatever.
Wil (The Shannara Chronicles) – I still need to read the book, but from his TV show version I'd say I'll like him … a lot.
Imagine your favorite book couple. Who would propose, and how? (If there's already been a proposal: who would be more into organizing the wedding?)
But … if I tell you here if they get married or not then that will be a Spoiler … or does everyone already know? Either way, if it were about the organizing, Magnus would so be in charge! He throws the best parties already, so he'd surely do a great job with his own wedding.
Unpopular opinions time! Name a popular pairing you can't stand.
FourTris? I don't even know …  I really liked them in the beginning but by the time Allegiant rolled around, those two did not work for me anymore. Sorry?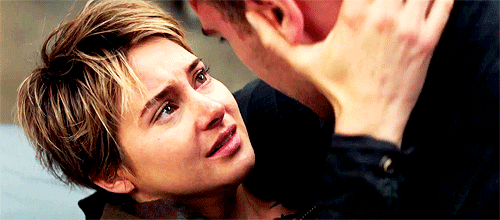 What's your favorite and least favorite romance trope?
Favorite: Pretend relationships that turn into something real! I love, love, love that sort of stuff!
Least Favorite: Insta-love – just no! I want to see the "falling in love"-part, the development of feelings. THAT IS THE BEST BIT OF THE STORY!
Do you ship non-canon couples often? Name some if you do.
I can't say Zach and Maggie from Saving Hope or Gabby and Severide from Chicago Fire, right? Barely anyone even knows who they are … and they're not from a book.
Hmmm … Quentin and Eliot from the Magicians trilogy works though!!! Eliot was always into Q, I am sure of that … maybe if Q had been into men, he'd have had a much easier life. I doubt it, but who knows, right?
Your opinion on love triangles. Go!
I actually like them. If they are done poorly it's a shame and if it's more of a love hectagon, it's silly too. But a well done love triangle, I can totally roll with that.
Favorite and least favorite love triangle?
Favorite: Tessa-Will-Jem! Always and forever those three. I swear I've never seen a love triangle handled better than in the Infernal Devices.
Least Favorite: Peeta-Katniss-Gale! This simply wasn't a love triangle. In the book Gale never stood a chance. There was NO Team Gale!
Sometimes romance just isn't the way to go. Favorite friendship?
Again, Jem and Will from the Infernal Devices have the best bromance. What am I saying? Their relationship transcends bromance. There is no mallice or envy between them, just unconditional and eternal love, respect and trust. They are some of the best characters out there.
What's your favorite scene with your bookish OTP?
There are so many and my memory is the WORST when it comes to details. But here's a little snippet from City of Heavenly Fire.
"Magnus raised his head and looked up and over at Alec; it was a look that made Clary flush and glance away. There was so much love in it, mixed with exasperation and pride and despair. It was an unguarded look, and it felt wrong to see it."
Then there was this other scene where they portaled themselves to go to the opera in Vienna and since that's where I live, I sort of cherished that moment, however short it was.
Imagine your favorite book couple again. Who's most excited about Valentine's Day (either ironically or genuinely)?
Alec ironically and Magnus genuinely or maybe Alec would genuinely be excited because it is with Magnus. He's difficult to read on this sometimes.
---
Now, I Tag:
*Feel free to ignore the tag if you don't want to do it!*