His world is music. Her world is silent.
Ali Collins was a child prodigy destined to become one of the greatest musicians of the twenty-first century—until she was diagnosed with a life-changing brain tumor. Now, at seventeen, Ali lives in a soundless world where she gets by with American Sign Language and lip-reading. She's a constant disappointment to her father, a retired cop fighting his own demons, and the bruises are getting harder to hide.
When Ali accidentally wins a backstage tour with the chart-topping band Tone Deaf, she's swept back into the world of music. Jace Beckett, the nineteen-year-old lead singer of the band, has a reputation. He's a jerk and a player, and Ali wants nothing to do with him. But there's more to Jace than the tabloids let on. When Jace notices Ali's bruises and offers to help her escape to New York, Ali can't turn down the chance at freedom and a fresh start. Soon she's traveling cross-country, hidden away in Jace's RV as the band finishes their nationwide tour. With the help of Jace, Ali sets out to reboot her life and rediscover the music she once loved.
Publishing Date: May 3, 2016

Page Count: 310
**I was provided with a copy by the author in exchange for an honest review!**
When I find out about a book, I read the blurb, but to be honest I mostly only skim over it. That often leads to me being way more surprised about what happens than I would have been if I had read the summary in detail – this is basically what happened with Tone Deaf! I only knew it was about a former musical prodigy turned deaf and a boy from a band and that I wanted to read it. So, I don't even want to talk about the content all that much, I want you to find out what it is about yourself. I can only say that it was funny, more intense than I thought and really heartfelt.
The thing I was most intrigued about was how language would work. Dialogue is such an important part of the books I read and I didn't quite know how it would be executed here. I can only say that Olivia Rivers did it perfectly! ASL is a language of it's own, comprised of a different kind of vocabulary, but it was incorporated in a way that made sense to me.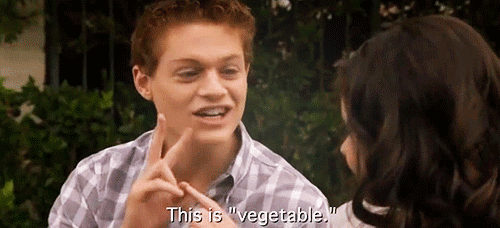 Also, Ali, the main character, was great at reading lips but it was also made clear that she couldn't just follow any conversation, especially not if people talked quickly or turned their face away from her. Tone Deaf also worked with texts and even Twitter, so I thought that was such a clever way to incorporate modern day technology into the story.
I tore through the book within two days and I think I would have made it in one if it hadn't been for work. The thing that made the book so enjoyable were the characters – they simply felt real! And I am not even talking about the main characters only. Arrow, Killer and Jon (the bandmates) are some of my new favourite people, even though I wish Jon had gotten some more page time. And I would definitely love a dog like Cuddles!
Also, the romance between Ali and Jace was lovely. Yes, they were physically attracted to each other even when they didn't like one another, but their connection was something way deeper. And I honestly think that they could never find that with anyone else.
If I had to complain about something in this book, there really isn't much I can find. However, I did not like that Jace didn't appreciate his fans or how the storyline fit together a bit too conveniently sometimes, but those were minor details. Jace definitely struggled with a lot of things and I just have a feeling that he couldn't fully glory in the love of his fans, because deep down he still felt broken and not like he deserved it. I am going to keep telling myself that in order to not see him as a jerk so much.
Fazit: 4.5/5 stars! A super sweet read about taking your life into your own hands, while realising that there is no shame in accepting help. Also, definite plus for the Doctor Who references!
Are you interested in reading this book? Have you heard of it before? Have you ever read a book about a deaf MC?