Top Ten Tuesday is a weekly meme created by The Broke and the Bookish, if you want to know more about it, you can just click on the name! This week was almost like a freebie, seen as you could talk about basically anything you like. Here's the official theme:
Ten Reasons I Love X — could be a certain book, character, author, your indie bookstore, a fandom, a tv show, reading, a hobby, a genre. Honestly anything you want to gush about.
So, everyone knows that I adore the Red Rising books! Seriously, if you don't – WHERE HAVE YOU BEEN LIVING THESE PAST MONTHS!? In the unlikely case you truly haven't heard about it, this is the post that will definitely prove my admiration for it.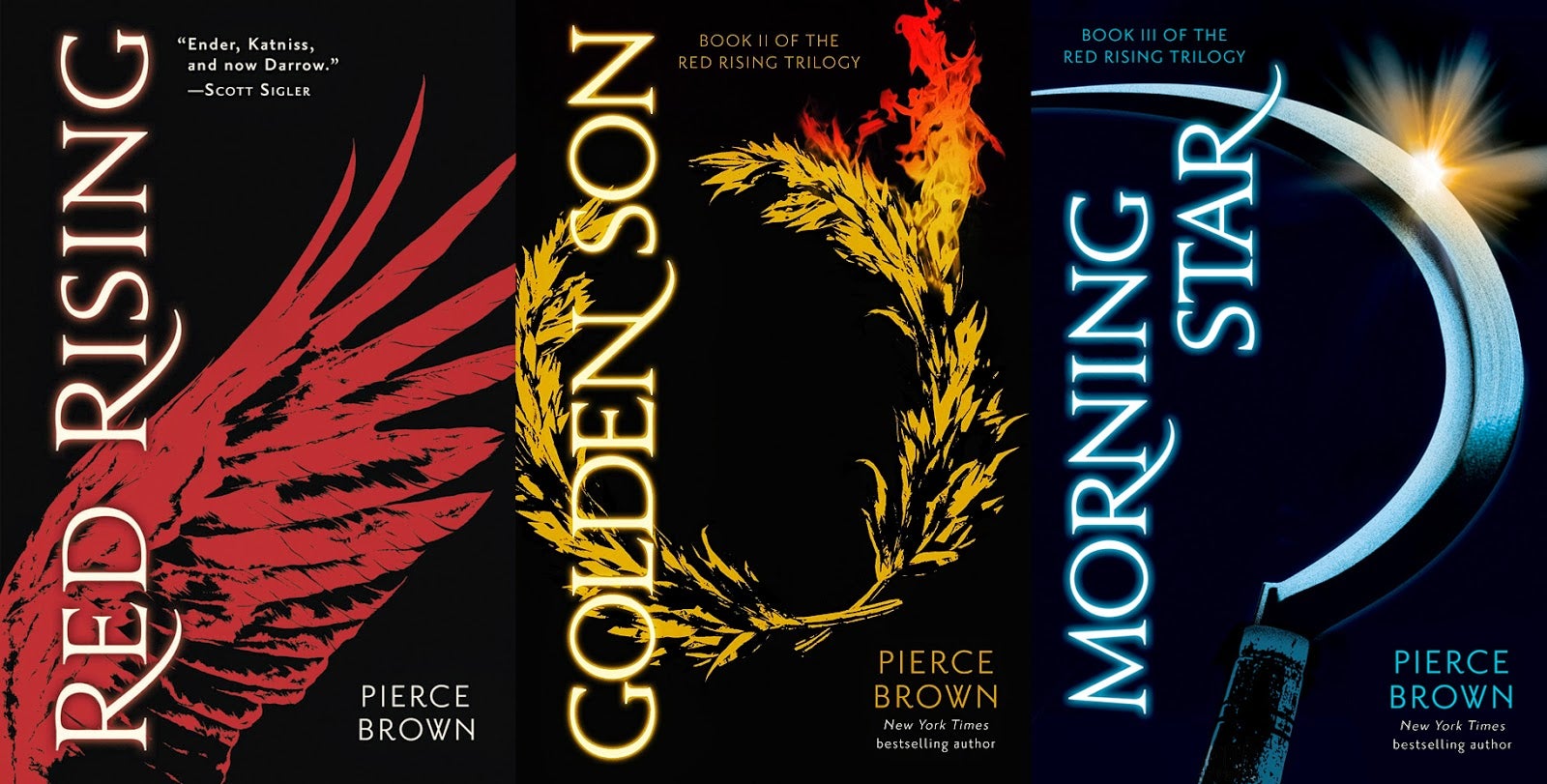 1. Pierce Brown
Let's face it – without this incredible man we just wouldn't have the books. He is funny and smart and quite frankly also really good looking. He is one of those rare authors who can get your attention on social media and make you want to read his books because of his charisma without you knowing what the books are really about. It's the added bonus that Red Rising is this amazing series.
2. A Flawed but Perfect Hero
I know that statement is very contradictory, but Darrow's character depth is just beyond anything I've experienced. He makes mistakes, he is flawed, but at the same time he is the kind of leader you would follow to the end of the universe and give your life for. I wouldn't want to be in his shoes at all, yet he manages to inspire people in the best ways.
3. Amazing Side Characters
It's definitely not just Darrow who is great! I could just make a list of names of all the characters I will cherish or despise forever, but I won't because it would be majorly long. Just know that they are as developed as the main character. That they have motivation and cause for their actions, even if they sometimes feel like knifes in the back.
4. Twists and Turns
I've already sort of lead up to this point. Don't try to anticipate what's going to happen in these books, because in 9/10 cases you won't be able to guess it for sure. It makes the story so great, because Pierce takes you in one direction and then simply reeks chaos. It's what makes this such an exhilarating read.
5. Great World-Building
I remember there being a lot of information on the world in the first book, sometimes a bit too much, but it will sink in eventually and it's such an intricate world. It has its own slang and language, without overdoing it or making it annoying. Also, I love the names!
6. All the References
Are you into Greek, Roman or Northern mythology? Do you like historic references? This is most definitely the book for you! But even if you don't have any idea about that kind of stuff, it will make sense within the context of the books.
7. Social Criticism
And it is done in the most entertaining and enlightening way possible!
8. Blurs the Lines
Who is good, who is evil? Is this a YA or an adult book? Do I trust this person or not? (Oh, there are SO many trust issues!) You can't really choose a side or at least a lot of the time people don't turn out to be who you thought they would be.
9. A Bit of Everything
There may not be everything in equal parts, but it sure is all in there. It will make you feel all the feels, because it's a tale about revenge, justice, honor, family, love and everything in between.
10. It's Not Over Yet
You  know those stories where the hero accomplishes his task and you just wonder how the world is going to go on now? Worry not, Pierce Brown is currently working on a follow up series (Iron Gold) that will explore exactly that issue. Aside from that, they are also working on a movie adaptation of Red Rising and they are taking their time and working with Pierce to do that exactly right. I will consider this as a good sign.
What's a book that made you feel all these things? Which topic did you choose for your TTT?