There are a ton of bookish favourites list, but I am not quite ready to do that. However, then I saw Cátia over at The Girl Who Read Too Much doing a post on TV shows and I thought that I'd definitely be up for that! Here are my Top 16 Shows of 2016, but mind you, they aren't really in no particular order.
Class
As a warning, Doctor Who did not make it onto this list, not only because of the fact that they only had the Christmas Special this year (still not sure if I will ever review that one) but also because I am generally way more excited about Class than I am currently about anything else Who-related. The cast is amazing, Patrick Ness created a great, fast-moving and emotional show. I simply cannot wait for more seasons in the future (which I am sure they will get!) and for the relationships to deepen and to get even more of these cutesy moments.
The Shannara Chronicles
I've said it before and I will say it again, I don't get all the doubts when it comes to MTV's original programming. They are doing an amazing job, putting real high quality stuff out there and if you didn't believe it before, The Shannara Chronicles should have been the final confirmation. It's funny and action-packed and I am STILL not over what happened in the end.
Dirk Gently's Holistic Detective Agency
Not gonna lie, half the time I didn't even know what the purpose of that show was. It's based on books by Douglas Adams, but it has very little to do with the source material from what I am told. I guess hardcore fans won't think so, but sometimes that's for the better? I enjoyed the show so much, I binged it in one day. It was hilariously non-sensical most of the time. My favourite part were the Rowdy 3 taking Amanda into their fold, I need more of that weird dynamic.
Wynonna Earp
A demon hunting girl? Yeah, I did not peg that show to be a front-runner for me, but I loved Wynonna Earp so much. Wynonna is such a sassy and reluctant heroine, you cannot help but adore her. The production value might not be up to par with some of the other shows, but it was still such a fun time watching it. For a while I even considered dressing up as Wynonna for Comic Con, but then I wasn't sure anyone would recognise it …
Pitch
There's nothing I don't love about this show. It is diverse and empowering for women and I need everyone to shut up about how women cannot throw/pitch with as much strength and speed as men. I also don't want to hear how the show isn't realistic and it doesn't look like "real" baseball. Guess what? All the actors and actresses had to learn the game and duh, they aren't pro-ballers, so it will never look exactly like the major league, who cares? IT IS TV!!! (And they still achieved a lot) I NEED a second season of this glorious show. It is family friendly with a great message. Not everything goes perfectly, and that is what makes it so realistic in my opinion. I mean, I cried – about a sports show!!! – that is so not me.
The OA
Still not sure what I watched there, but it was beautiful in a very strange and extremely disturbing way. I don't think this show is for everyone, it's about one of the slowest stories I've encountered as of late (next to another show that will show up later on) and it has gotten a lot of mixed review. Personally I can recommend it and also to go in knowing as little as possible. It was one of those rare surprises for me and I hope that somehow that story isn't over yet.
The Royals
The wait for Season 3 was real! I danced through my room when it was finally back. I don't care that it's overly dramatic and cheesy, because that's just how the show is. I can still predict some of the plot twists, but I don't care, this is one of the shows I enjoy watching the most. With the return of a certain someone, I cannot wait for the new episodes next week!
Younger
You want to watch a fun show about a woman in publishing? Go watch Younger! Bonus, she has to pretend to be in her twenties even though she's about 40. IT IS SO MUCH FUN!
Stranger Things
Sometimes I just give in to hype and I am so very glad I did not regret doing so with Stranger Things. It was an 80s nostalgia bomb and I weirdly didn't find it all that scary. They did the whole monster-thing the smart way, by not revealing it for several episodes. And I read a lot of interviews and it's so interesting to see how they changed a lot of the story and characters while shooting, simply because the actors/actresses provided more than they hoped for. Also, #JusticeForBarb! (I want her pop funko figurine for sure)
Sense8
I have a dramatic love/hate-relationship with Sense8. I ADORE the show itself, I HATE the wait for the new season. I was craving something new, so naturally I couldn't restrain myself and watched the Christmas Special … and I cried and I laughed and I was reminded why I love these characters so much … AND NOW I HAVE TO WAIT UNTIL MAY!?!?!? How is that fair???
Rectify
I found this gem just in time to watch its final episodes unfold. Hidden somewhere on Sundance TV, I didn't even know it existed a couple weeks ago, but now I am strongly convinced that this was one of the most powerful and gorgeous stories of the year. It's about a man getting out of prison after having been in solitary confinement for somewhat 20 years. The journey into his mind, the painful and beautiful moments alike, where something memorable for sure. Also, this show manifested my love for Abigail Spencer for sure!
Animal Kingdom
Very twisted, very violent, very surprised I liked this … but the guys below may have had something to do with it. (also, I've never seen the Australian movie this is based on)
Victoria
Jenna Coleman, who is one of my actress-queens, playing an actual queen – count me in! Even though it's based no Queen Victoria's life, I was still as invested as ever when it came to her love life, her relationship to Lord M and Albert. So many feels!
Poldark
I am so massively disappointed in Ross as a person, however, I wouldn't miss a single episode of the show … ever? If I could have had my way, I would have had Demelza run off with Dwight, but whateves, he's happy … for now … Demelza also better not have any reason to doubt her husband again.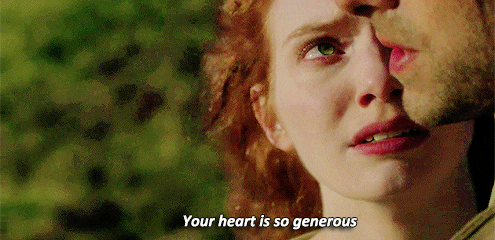 Sweet/Vicious
This one was another surprise. It seems over the top and to the point of silly sometimes, but I like the underlying message and support it offers. I would have never guessed that MTV would present us a show taking on rape culture and really condemning it too.
Daredevil
I liked the first season of Daredevil but the second one was so much better. They perfectly introduced the Punisher and deservingly gave him a show of his own right after. Also, Karen stepped up her game in my opinion. Generally I just really enjoyed that season, even though it once more got more brutal.
Honorable Mentions
This is the part where you realise that, yes, I am simply watching too many shows. I am just going to rattle off some more shows I enjoyed, because why not?
Gilmore Girls Revival
Timeless
Conviction
Notorious
The 100
Hit the Floor
Humans
Westworld
Shadowhunters (ONLY because of Malec)
iZombie
Jane the Virgin
The Librarians
Travelers
Game of Thrones
Vikings
Dark Matter
Lost Girl
Lucifer
The Magicians
Our Girl
All the CW superhero shows (Arrow, Supergirl, Flash, Legends of Tomorrow)
Now that I've mentioned as many more shows here as I have on the actual list … I think I should quit, even though I am pretty sure I could still come up with quite a couple of shows. Remind me, how do I have time for anything in life? Which shows have you watched? Which ones are your favourites?