I guess it's already that time of the year again where I get to freak out over books because, well … it's June and months have passed and I have tried to read a bunch. So, thank you to The Orang-utan Librarian for tagging me to do the Mid Year Freak Out Tag!
BEST BOOK YOU'VE READ YET IN 2018
I hate picking favourites so much! I just always feel like I forget something, but I looked at all the books I read on Goodreads and To Kill a Kingdom caught my eye. I really liked reading about sirens and adventure at sea, therefore it is ONE of my favourites of the year so far.
BEST SEQUEL YOU'VE READ SO FAR IN 2018
Hands down, Iron Gold! I feel like I had to wait for this book forever and then I finally got it, had a super fun buddy read and am beyond excited that we most likely get the next book this year as well!? I cannot get enough of that world and the intensity that comes with it.
NEW RELEASE YOU HAVEN'T READ YET BUT WANT TO
Only Human is the finale of the Themis Files and I cannot wait to finally read how it all ends. I have it on my shelf and it's staring at me like it's trying to seduce me to read it sooner.
MOST ANTICIPATED RELEASE FOR THE SECOND HALF OF THE YEAR
As mentioned above, there's another book coming in the Red Rising saga and it would be very strange to not say that Dark Age is the one I am most anticipating. But also, I am just not as up to date with new releases as I used to be, I am all about (or at least mostly) the backlist this year.
BIGGEST DISAPPOINTMENT
I don't even want to think back to reading Sweetbitter. I was so excited to read about a main character who works as a server and does not just use that as a means to get by until they get their dream job, but then it was just terribly toxic.
BIGGEST SURPRISE
Hmmm … that's a tough one. I think I might not have expected to love Annihilation as much as I did. Seen as it is more on the creepy side, it didn't seem like an obvious choice for me. Usually I also don't like detached writing, but this one worked perfectly.
FAVOURITE NEW AUTHOR
I fell a little bit in love with Nic Stone's writing when I read Dear Martin. I can't really describe the why or anything like that, but it just flows super nicely and made Dear Martin such an addictive read. I am already looking forward to her next book!
NEWEST FICTIONAL CRUSH
Hands down, Dawsey Adams from the Guernsey Literary and Potato Peel Pie Society! He is kind, smart and patient, supported women and their independence at a time that wasn't a sure thing and is good with kids. Where is my Dawsey??
NEWEST FAVOURITE CHARACTER
Just because I had so much fun reading Jackaby and I already mentioned To Kill a Kingdom before (cause Lira is freaking awesome), I am going with Abigail Rook. She is intelligent, great at deductions, always out for adventure and just as flustered as everyone else when she has a crush. (Seriously hoping to pick up Beastly Bones in the coming days to see where that all goes!)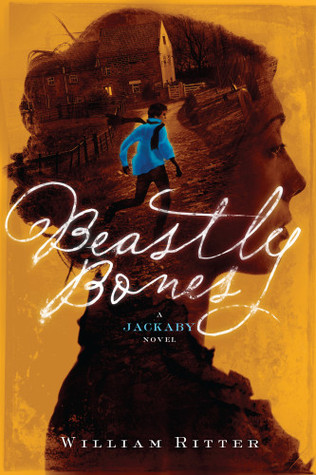 BOOK THAT MADE YOU CRY
Uhm … good question. I think I cried while reading The Hate U Give. Injustice just always gets to me hard and Angie Thomas did such an amazing job at making you feel really close to the characters and feeling as if you were right there with them. Tears were shed for sure.
BOOK THAT MADE YOU HAPPY
I remember laughing a lot while reading The Epic Crush of Genie Lo, so I am pretty sure it's fair to say that it made me happy?
FAVOURITE BOOK TO FILM ADAPTATION
You would guess that I have an answer to this right away, but I am actually having a really hard time coming up with one. My most anticipated book to film adaptation would probably be Love, Simon, but it's still not released anywhere in my country (two more weeks!!) and that just means I haven't watched it. I also think that Crazy Rich Asians is going to be awesome, but I haven't read or watched that one yet either. I keep trying to wrap my head around the fact that I don't think I have seen that many movies this year so far??
FAVOURITE POST YOU HAVE DONE THIS YEAR
I guess that it wasn't really such a noteworthy post for most people, but I am so glad I did a more or less comprehensive post about my WIP titled "Let's Talk About Arcadia". It has been a massive help as a referral post for me whenever I talked about writing and updates of the story or did tags that related to my characters. Even if someone completely new joins the blog now, I will have a place to send them to for details on my story. Thus far, I was really always worried that my posts about Arcadia would get annoying, especially for people who didn't have a clue what I was talking about and that's why it's one of my favourite posts this year.
MOST BEAUTIFUL BOOK YOU'VE BOUGHT THIS YEAR
Probably Obsidio? All the Illuminae Files books, especially since I was able to afford the hardcovers, are just gorgeous to look at.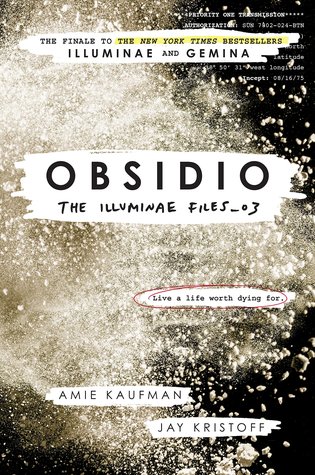 WHAT BOOKS DO YOU NEED TO READ BY THE END OF THE YEAR
I am pretty sure I have around 20 unread books on my shelf? I am such a massive mood reader, that it has really become an issue for me to have that many books at home. I will try to get to at least half of those if not all of them by the end of the year, but I am not actually going to rattle them off.
I TAG THEE
I tag whoever wants to do this tag!
What did you think about my mid year freak out? Can you relate? Do you have any questions or different answers? Let's talk!