It's no secret that I have read very little during my time in Berlin so far. Being busy, tired and just generally occupied with other things will do that. I also have a very short way to and from work (which I love), so there's not even really an opportunity to read on the train or so. But I am nonetheless quite happy I read something and here's what that something was:
Click on the covers to get redirected to Goodreads!
Parsnips, Buttered: How to win at modern life, one email at a time by Joe Lycett
Every now and then, when the mood strikes, I like to dabble in some non-fiction books. And when I do, I am mostly drawn to works written by either actors or comedians I already know – Parsnips, Buttered was no exception to that.
People who have seen some of Joe Lycett's work, know exactly what kind of ridiculous email-exchanges he gets himself tangled up in. This book is a hilarious compilation of some of his mischief, but it is by no means a guide or how-to-book. It's just a little bit of short-lived fun that definitely got better with me hearing Joe's voice narrate the whole thing in my head.
Fazit: 3/5 stars! I can see this working for some people and not at all striking the right chord with others.
The Darkest Minds by Alexandra Bracken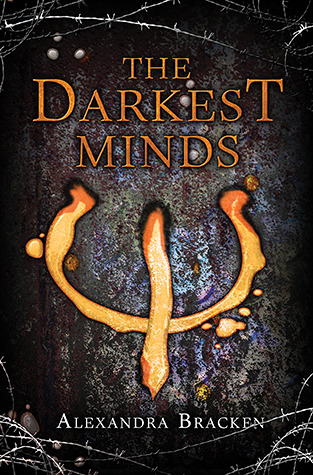 Some of you already know this, but I won tickets to see a preview of The Darkest Minds in August. Even though I usually try to avoid dubbed versions of movies, I didn't even mind it as much for this one and really enjoyed the film. In my opinion, that movie would have worked a whole lot better a couple years back, because dystopian YA book adaptations just aren't really that sought after these days and all the adult reviewers kept comparing it to the likes of Hunger Games and Maze Runner, even though it could have been its own thing.
I am rambling too much tough. What I meant to say was that I enjoyed the movie, but that made reading the book in hindsight a little more tricky. It's not that I think one or the other is better per se, just that there are almost as many similarities as there are differences and therefore reading can get a little tiresome.
For me, the book filled in some questions that were left open after watching the movie, while I generally enjoyed some of the visuals better than reading about those events. I am curious where this story will go, but it is not exactly a priority of mine. Chubs is definitely one of my favourite characters now and the guy who played Liam in the movie is on my radar for young talent!
Fazit: 3.5/5 stars! Is it wrong of me to say that the prime of those kind of stories is past?
Have you read either one of those? Did you read more installments in the Darkest Minds series? Did you see the movie and would you like a more thorough comparison from me? Let's talk about it!