Coming home for Christmas, I managed to not only catch up on my reading, but surpass my (adjusted) reading goal for 2018. I've definitely read a lot less this year than in the previous ones, but overall I am still not unhappy with the outcome. So, there's that!
Click on the covers to get redirected to Goodreads!
Heart of Gold: Act I by Eli Baumgartner/Viv Tanner
I supported this graphic novel via Kickstarter and I am beyond happy I did. The final product is BEAUTIFUL with golden edges and a gorgeous sketch of one of the characters on one of the first pages for me. I adore it!
All the better that the content inside fits the great exterior. It's such an interesting take on religion, damnation, love, faith and healing. It shows two entirely different approaches to those topics and keeps a mystery and tension going throughout the entire first act. The imagery is so beautiful and I honestly cannot wait to read more.
Heart of Gold is also available as a web comic here!
Fazit: 5/5 stars! I am 100% intrigued and here for it!
Venustransit by Hamed Eshrat
Venustransit is a German comic about a guy who hasn't quite figured out his life, gets dumped bis his girlfriend and is stuck in a job he hates. It's set in Berlin and I can almost see the street I am living in on the cover (so close!). I like diving into things I know the setting of and can try and figure out if I walked the same streets. Stuff like that never gets tired to me (except when it's only historical fiction … like so often with Vienna).
While I wasn't as in love with the drawing style as I was with other comics I own, the story had a clear line and still took a lot of creative liberties. It was interesting and I am sure relatable to a lot of people out there.
Fazit: 3/5 stars! Gets plus points for the setting.
Ghostly Echoes by William Ritter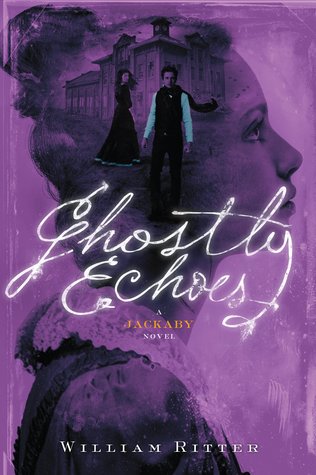 Ghostly Echoes is the third book in the Jackaby series. I only did a mini review for the second book, Beastly Bones, as well, so I feel like I should stick to that format of reviewing for now.
This series legit just keeps getting better and better. The story is becoming more complex, with more dots to connect and still so, so much to discover about the characters. The writing style isn't really anything over the top and it all seems like light fun in the beginning, but by now there's a lot more serious stuff happening and you are so emotionally invested in the fate of the characters. And there is a lot to worry about! This book even included a little detour to the underworld!
If you are into Sherlock-esque mysteries with a supernatural twist, have at it with this series. I can only recommend it!
Fazit: 4.5/5 stars! Here's to hoping the last book will be equally as amazing, if not more so.
Have you read any of the books/comics I mentioned? Are you interested in some of them? Let's talk!