As I've previously mentioned, I'm going to do mini reviews more often this year. Sometimes there's just not enough to be said for a whole post, but some thoughts still want to be shared. Both books for today are in the YA age range, but the content couldn't be more different!
*links to Goodreads and Storygraph will be provided after the ratings!*
Every Heart a Doorway by Seanan McGuire (Wayward Children #1)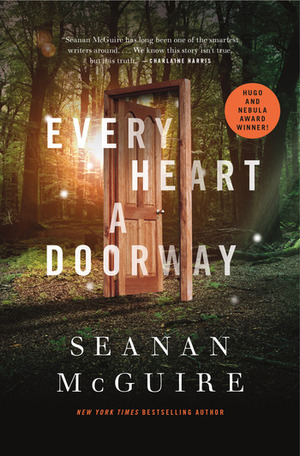 Publisher desrciption:
Children have always disappeared under the right conditions; slipping through the shadows under a bed or at the back of a wardrobe, tumbling down rabbit holes and into old wells, and emerging somewhere… else.
But magical lands have little need for used-up miracle children.
Nancy tumbled once, but now she's back. The things she's experienced… they change a person. The children under Miss West's care understand all too well. And each of them is seeking a way back to their own fantasy world.
But Nancy's arrival marks a change at the Home. There's a darkness just around each corner, and when tragedy strikes, it's up to Nancy and her new-found schoolmates to get to the heart of things.
No matter the cost.
My Thoughts:
Even before I read a single word, I just had a feeling that I would like this series and – to no one's surprise – I was right.
For some reason, I thought that these books would be much more childlike, but Every Heart a Doorway is actually quite dark, weird and gritty. All of that's fantastic, at least for me! With each book being around 200 pages, the whole series honestly seems like such a great palette cleanser between heavier books, if only they weren't so expensive. I looked into it and I don't think I can afford them at the moment, even though I definitely want to continue with the Wayward Children books.
"For us, places we went were home. We didn't care if they were good or evil or neutral or what. We cared about the fact that for the first time, we didn't have to pretend to be something we weren't. We just got to be. That made all the difference in the world."
I was especially surprised by the fact that I was really emotionally touched in the end. Considering how short and not entirely in depth the world-building was, I was rooting for those kids to get their doors back, to escape to those strange and at time gruesome worlds they were missing so much. It also got me started on wondering where my door would have led to, which world would have seen something special in me.
"You're nobody's doorway but your own, and the only one who gets to tell you how your story ends is you."
I'm so very glad I finally picked this up!
CW: death, gore, transphobia (not condoned), body horror
Fazit: 4/5 stars! I wish I could dive into the rest of the series immediately!
Take Me Home Tonight by Morgan Matson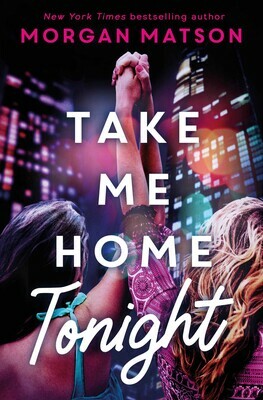 Publisher desrciption:
Two girls. One night. Zero phones.
Kat and Stevie—best friends, theater kids, polar opposites—have snuck away from the suburbs to spend a night in New York City. They have it all planned out. They'll see a play, eat at the city's hottest restaurant, and have the best. Night. Ever. What could go wrong?
Well. Kind of a lot?
They're barely off the train before they're dealing with destroyed phones, family drama, and unexpected Pomeranians. Over the next few hours, they'll have to grapple with old flames, terrible theater, and unhelpful cab drivers. But there are also cute boys to kiss, parties to crash, dry cleaning to deliver (don't ask), and the world's best museum to explore.
Over the course of a wild night in the city that never sleeps, both Kat and Stevie will get a wake-up call about their friendship, their choices…and finally discover what they really want for their future.
That is, assuming they can make it to Grand Central before the clock strikes midnight.
My Thoughts:
This book was a gift from my lovely friend, Marie! I cannot thank her enough for her generosity. Check out her review of the book here.
I have come to the very sad realization that I'm growing out of contemporary YA and that likely also means Morgan Matson. I've read every single one of her books (there's a ranking for those coming soon!), but I had a really hard time staying engaged with this one.
The story is told from the POV of Kat, Stevie and Teri, but I quickly realized that I was most invested in Stevie's life. When I was a 15-year-old teen, I was certainly a mix of all those girls and even if they seems super dramatic at times, I can attest to that being the authentic teen experience.
"Why do people see a benefit in disowning the things we loved when we were little? Why are we always casting everything aside?"
What I appreciate about Morgan Matson's books is that they often focus on family and friendship and put the romance a bit on the back burner. It's still there, but not always in the forefront. Take Me Home Tonight is no exception and even features a new dog to fawn over (another typical Matson feature). However, the events take such a ridiculous and convenient turn at times, that I couldn't help but role my eyes. With Teri especially, I just couldn't deal anymore, because it was neither necessary for the story nor believable. All of that ended in me clinging to Stevie's more grounded parts and that not being entirely enough.
This was fun, but a bit too over the top.
Fazit: 3/5 stars! Unfortunately, not a new Matson favorite.
---
Have you read either of those books? Do you want to? Let's talk!