As I've now mentioned countless times, I really slacked on the bookish content in August. That doesn't necessarily mean that I didn't read anything (more about that in the monthly recap), but I astonishingly checked out TWO audiobooks. I'm notorious for struggling with audiobooks (I wrote a whole post about it, which you can find here), because I find it so tough to focus on just sound without having anything to visually focus on. However, I got some free Audible credits this month, so I want to talk to you about the books I checked out!
*links to Goodreads and Storygraph will be provided after the ratings!*
I'm Glad My Mom Died by Jennette McCurdy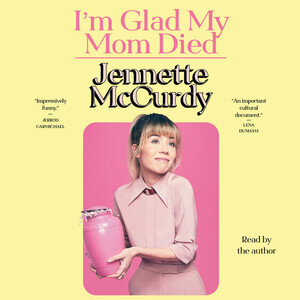 Publisher description:
Jennette McCurdy was six years old when she had her first acting audition. Her mother's dream was for her only daughter to become a star, and Jennette would do anything to make her mother happy. So she went along with what Mom called "calorie restriction," eating little and weighing herself five times a day. She endured extensive at-home makeovers while Mom chided, "Your eyelashes are invisible, okay? You think Dakota Fanning doesn't tint hers?" She was even showered by Mom until age sixteen while sharing her diaries, email, and all her income.
In I'm Glad My Mom Died, Jennette recounts all this in unflinching detail—just as she chronicles what happens when the dream finally comes true. Cast in a new Nickelodeon series called iCarly, she is thrust into fame. Though Mom is ecstatic, emailing fan club moderators and getting on a first-name basis with the paparazzi ("Hi Gale!"), Jennette is riddled with anxiety, shame, and self-loathing, which manifest into eating disorders, addiction, and a series of unhealthy relationships. These issues only get worse when, soon after taking the lead in the iCarly spinoff Sam & Cat alongside Ariana Grande, her mother dies of cancer. Finally, after discovering therapy and quitting acting, Jennette embarks on recovery and decides for the first time in her life what she really wants.

My Thoughts:
The internet just about exploded when Jennette McCurdy's book I'm Glad My Mom Died released. I think, despite the title, a lot of people expected a tell-all book on her life in showbiz, but it's truly so much more personal than that. Yes, there are mentions of shows and movies we know as well as some other behind the scenes stuff that surely didn't always better her situation, but the focus is really on her relationship with her mom and how that affected her relationship with herself and her body.
"She wanted this. And I wanted her to have it. I wanted her to be happy. But now that I have it, I realize that she's happy and I'm not. Her happiness came at the cost of mine. I feel robbed and exploited."
I can see I'm Glad My Mom Died being very triggering for many readers out there and I would caution them to pick it up if they struggle with detailed accounts of eating disorders and parental abuse. I, for one, am glad I chose to listen to the audiobook, which is narrated by Jennette McCurdy herself, but it made the situation all the more severe in my mind. This was such a vulnerable and raw account of her life and I wish her nothing but healing and love moving forward. Still, I completely emphasized with her conflicted feelings and am just in awe of what all she dared to share. She seems to be on a good track now and I bet she's making more cash with this book than the Nickelodeon hush money could have ever been.
"Why do we romanticize the dead? Why can't we be honest about them? Especially moms, they're the most romanticized of anyone."
CW: eating disorders, child abuse, emotional/physical abuse, death of parents, substance abuse
Fazit: 5/5 stars! Raw and emotional and brilliant.
Critical Role: Vox Machina – Kith & Kin by Marieke Nijkamp (narrated by Robbie Daymond, Laura Bailey and Liam O'Brien)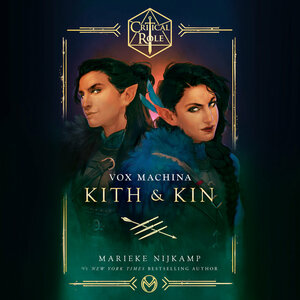 Publisher description:
Written by #1 New York Times bestselling author Marieke Nijkamp, Critical Role: Vox Machina – Kith & Kin will follow a brand-new story, featuring the cunning ranger Vex'ahlia and the conning rogue Vax'ildan (and, of course, Trinket) years before they meet Vox Machina. After leaving the unwelcoming refuge of Syngorn, the twins become entangled in a web spun by the Clasp, and for the first time Vex and Vax find themselves on opposite sides of a conflict that threatens the home they have carried with each other for years.
This story lands in the canon timeline of Exandria before any of the events of both the home and livestreamed campaign and even prior to Vox Machina's first meetings in Vox Machina Origins, our comic book series with Dark Horse Comics. Simply put, even if you've never met Vox Machina before, you can dive in right away and breathe in that fresh book scent without missing a beat. If you've already joined Vox Machina on any of their adventures, this novel grants a nostalgic return to these characters we love.
My Thoughts:
You know me, I haven't shut up about Critical Role in MONTHS. I probably won't shut up about it for a long time to come, because I really enjoy it with my whole being, but I'm not entirely sure I love it in all its iterations.
As the universe grows, the team of Critical Role seems to try and expand their way of telling the story of these fantastic characters in different media. We have comic books (which I'm yearning to get my hands on), games (the Mighty Nein Clue game is all I want for Christmas) and now also books/audiobooks. It makes sense, because the narration of Robbie Daymond with Laura Bailey and Liam O'Brien voicing the twins again was all flawless. I adore their voices and will never not rejoice at hearing them in character, but the story itself? Unfortunately, it didn't grasp me as much as some of their other content has.
Kith & Kin is part of Vex and Vax' backstory and shows several crucial moments in their life. Now, I don't know if it was the format, but it just sort of felt dragged out. Ultimately, w weren't really telling the tale of the twins, who got separated in a conflict and ended up on opposing sides, but rather these NPCs we met along the way. There were several hooks to create an emotional connection, but I still felt like an outsider looking in rather than really invested. It's a shame, because I love supporting all things Critical Role, but this was mostly just a joy because of the voice acting.
CW: violence, blood, slavery, racism, death of parent, grief
Fazit: 3.5/5 stars! It wasn't not interesting, just a bit too dragged out for my taste.
---
Have you listened to a good audiobook as of late? Let's chat!